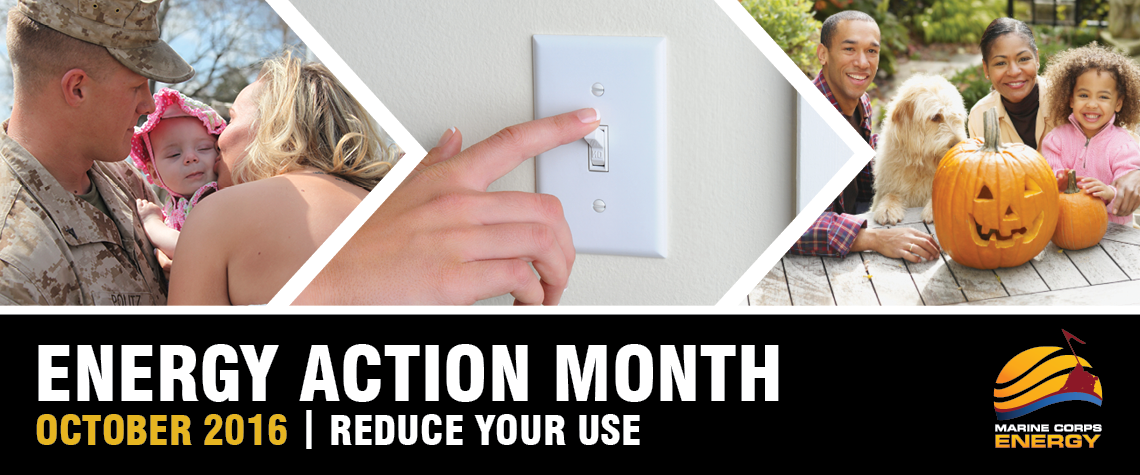 ---
It's Energy Action Month, and you're probably aware that the efficient use of energy is critical to the Marine Corps' mission. But good energy habits are not just important for the Marine Corps – they also impact families both on and off base. When it comes to energy, today's decisions can impact the future, so understanding the importance of being energy efficient at home, work, and school throughout the year is critical. It can also be fun!
Round up your family and try these fun, energy-saving activities:
Energy Scavenger Hunt – Set a time for a scavenger hunt! You can download one here or create your own, and work with your family to explore your home to find out how energy efficient you are. Extra dessert for the winner?
Energy Score Challenge – Is there an energy waster in your family? Maybe that person is you? Answer this quick questionnaire to find out your energy score. You can find your score individually or as a family. The lower the score, the better!
Faux Power Outage – What would happen if the power went out? Increase your appreciation for energy and have some fun family time. Turn off all of the lights and electronics in your home, light candles, and have a game night or reading night without distractions.
Energy Rewards – Who wants a gold star? Create a list of energy-efficient house rules with your family. Give out stars when rules are followed, and take them away when rules are broken. Whoever has the most stars, wins!
Continue to make Energy Action Month a success by getting involved on your base and at home. For even more ways to save year-round, check out these tips for saving fuel, conserving water, and using less energy at home. Also, listen to what Marine Corps leaders form your region have to say about energy and its impact on the Marine Corps' mission.
For more information on how to reduce your household expenses contact the Personal Financial Management Program.