The Aquatics programs provide a full spectrum of recreational and instructional activities in a safe, healthy, fun environment which aids in the development of life skills and builds resiliency in our service members. Drowning prevention is a key theme for Aquatics with a focus on prevention awareness.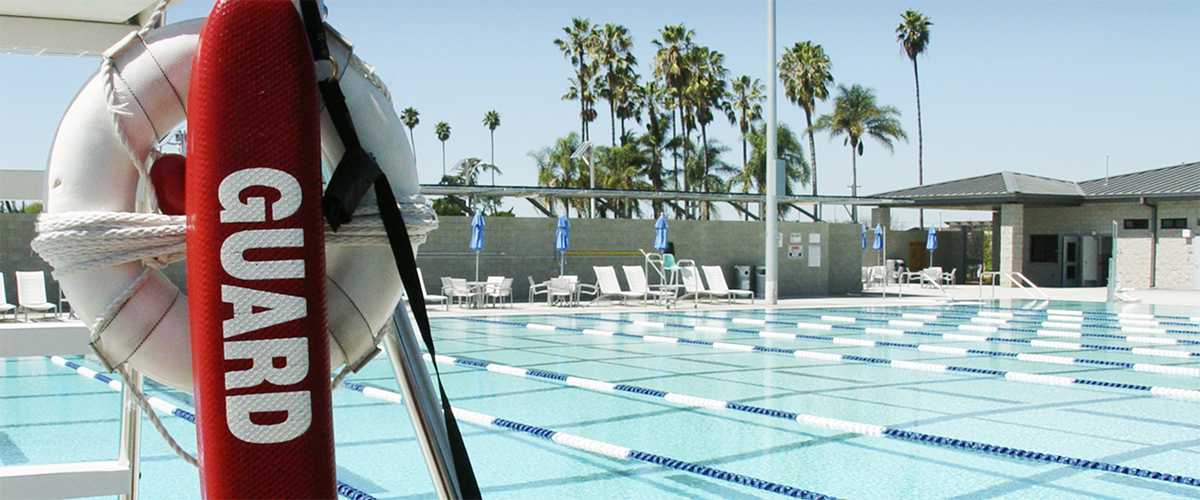 50-METER POOL/WATER SURVIVAL TRAINING TANK
NOTE: The pool is currently postponing swim lessons until a future date to be determined. If you would like to be placed on a wait list, please email: Miramar50MPool@usmc-mccs.org. Ensure to include your name, as well as the type of lesson that you're interested in taking.
The 50-Meter Pool / Water Survival Training (WST) is open to all ranks and offers a wide-variety of programs for all ages; from children to adults who are looking to learn basic swimming skills, or to perfect strokes and overall swimming performance. The pool also includes lounge chairs, picnic tables, and locker rooms with showers and daily locker use.
Important Information
The 50-Meter Pool is a military training facility, and may be closed at any time to support military training.
The 50-Meter Pool is set-up short course (25-meters), permanently.
The facility will open to patrons no more than 5 minutes before the start of lap swim. Please do not enter the water until a lifeguard is on duty.
The facility will close 15 minutes after operational hours. Patrons will not be permitted anywhere in the facility at any time.
Please note that all non-military guests must sign a Hold Harmless Waiver before utilizing the facility. If the guest is under 16 years of age, the parent/guardian of that child must sign the Hold Harmless Waiver before their child can utilize the facility.
If you have questions about our swim programs and pool parties, or about our services, please call the 50-Meter Pool at (858) 307-4137.
POOL FEES
All patrons pay a fee whether they swim or not.
POOL
FEES
DAILY
FEE
10 VISIT
PUNCH CARD

MONTHLY PASS

INDIVIDUAL SEASON PASS

FAMILY SEASON PASS

ACTIVE DUTY

FREE

FREE

FREE

FREE

$90.00

RESERVISTS

FREE

FREE

FREE

FREE

$90.00

RETIREES

$3.00

$25.00

$35.00

$70.00

$90.00

FAMILY MEMBERS
(≤ 3)

FREE

FREE

FREE

FREE

$90.00

FAMILY MEMBERS
(4-17)

$2.00

$15.00

$25.00

$60.00

$90.00

FAMILY MEMBERS
(≥ 18)

$3.00

$25.00

$35.00

$70.00

$90.00

DOD CIVILIANS

$3.00

$30.00

$40.00

$80.00

$90.00

GUESTS
(no guests at this time)

$5.00

N/A

N/A

N/A

N/A
Season passes are valid from June 21 to August 20.
Family season passes are priced for a family of five, which includes (1) spouse and (4) dependents.
Additional dependents may be added for $5.00 per person.
We appreciate your continued patronage.
UNIT PT/ MCIWS Swim Qualifications
Reservations must be submitted with at least 24 hours' notice.
Morning Lap Swim
Monday
5:00am - 7:00am
Tuesday
5:00am - 7:00am
Wednesday
5:00am - 7:00am
Thursday
5:00am - 7:00am
Friday
5:00am - 7:00am
Saturday
Closed
Sunday
Closed
Holidays: Closed
Lunch Lap Swim
Monday
11:00am - 1:00pm
Tuesday
11:00am - 1:00pm
Wednesday
11:00am - 1:00pm
Thursday
11:00am - 1:00pm
Friday
11:00am - 1:00pm
Saturday
Closed
Sunday
Closed
Holidays: Closed
Recreational Swim
Tuesday
4:00pm - 6:00pm
Thursday
4:00pm - 6:00pm
Saturday
11:00am - 4:00pm
Sunday
12:00pm - 4:00pm
Holidays: Closed