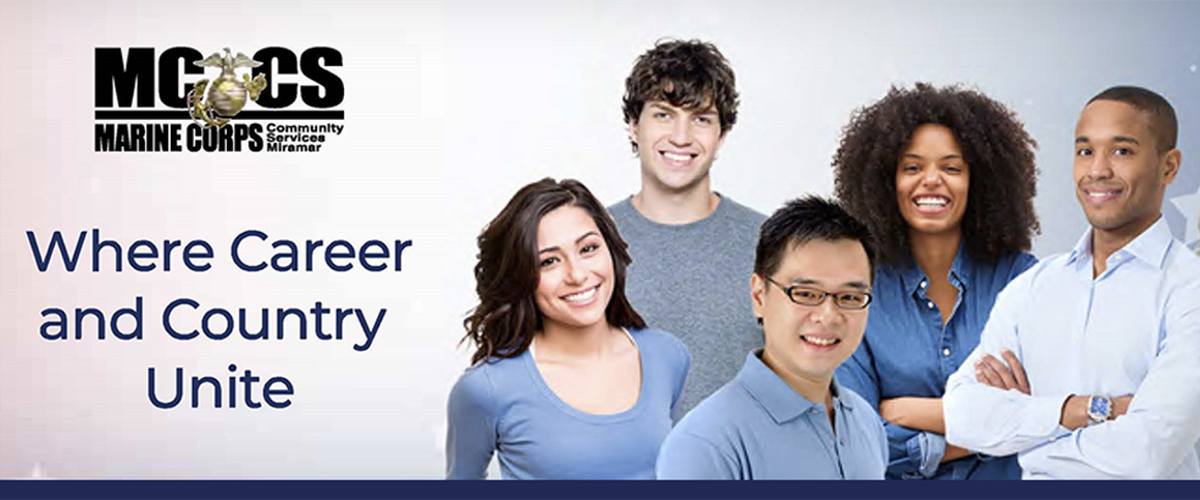 Human Resources
Serving Those Who Serve
Marine Corps Community Services (MCCS) Miramar is looking for individuals who want to make a difference by supporting and enhancing the quality of life for Marines, Sailors, and their families. We offer a team-oriented environment comprised of active-duty military personnel, civilian employees, contractors, and volunteers to keep MCCS functioning smoothly and effectively. As a service-oriented organization, we never waver in our commitment to our Marine Corps community.
What we offer
Comprehensive benefits.
We offer medical, dental, and other insurance benefit programs as well as paid time off, to our full-time and part-time employees. Our world-class retirement program provides all employees - full-time, part-time and flexible - the ability to plan for your future with confidence. The Employee Assistance Program (EAP) is offered at no cost to all employees, regardless of participation in other benefits.
Robust employee opportunities.
We offer robust leadership, career, and professional development programs to prepare you for a wide variety of worldwide flexible, part-time, and full-time career paths that build on your unique background and experiences.
Work/life balance.
While MCCS positions offer rewarding work supporting our service members, civilians, and their families, we encourage work-life balance through flexible work schedules and possible telework, fitness and wellness programs, and the support of unique individual and family needs.
Join us
Explore and take your career to the next level by serving those who serve, our MCCS Opportunities.
Employee Benefits
This organization provides reasonable accommodations to applications with qualifying disabilities. If you need a reasonable accommodation for any part of the application and hiring process, please notify the Staffing Manager. Applications will be accepted from all interested applicants. All applications and resumes will be retained in the MCCS Human Resources Office and will not be returned. Applications must be received in MCCS Human Resources Office by posted closing date. You may call if you have any questions. We look forward to hearing from you soon.
Hours
Monday
8:00am - 4:00pm
Tuesday
8:00am - 4:00pm
Wednesday
8:00am - 4:00pm
Thursday
8:00am - 4:00pm
Friday
8:00am - 4:00pm
Saturday
Closed
Sunday
Closed
Holiday hours may vary.