Discover a hidden retreat centered in the heart of the San Bernardino Mountains… a perfect getaway for a little rest and recreation. If you seek adventure and enjoy the outdoors, Big Bear is the perfect place for you. During the winter, enjoy skiing and snowboarding. After the snow melts, fishing, mountain biking, hiking and water skiing are popular. The Big Bear Recreational Facility is dedicated to providing affordable facilities for camping and lodging for active duty, retired military personnel, reservists, veterans, DoD employees and their authorized family members.
AUTHORIZED PATRONS
Active duty and retired military personnel, reservists, veterans, DOD employees and authorized family members may make reservations for the Big Bear facility. Priorities apply. Authorized family members under the age of 18, other than spouse, may not reserve cabins or RV/campsites and may not occupy the facilities unless accompanied by the sponsor parent/spouse. The sponsor or spouse of sponsor whose name appears on the payment receipt must be present in the cabin or RV/campsite during the entire stay.
SUBLETTING IS PROHIBITED.
More than one sponsor's name may appear on the payment receipt if requested at the time of payment.
FACILITY AMENITIES:
BBQ / FIRE RING AT EACH RV / CAMPSITE
BBQ/PICNIC AREA OUTSIDE EACH CABIN
BATHHOUSE – With hot showers and flushing toilets
BICYCLING PATHS
FIREWOOD IS AVAILABLE FOR PURCHASE/ FIRE STARTERS
FIRE PIT (COMMUNITY)
GAMES – Adult & children's games – No cost to check out
HIKING TRAILS TO SNOW SUMMIT
HORSESHOES
KNOWLEDGEABLE STAFF
MARINE CORPS HIKING TRAIL
PLAYGROUND
SLEDS
TV – Coming Soon
VOLLEYBALL
WIFI – Coming Soon
CABINS
The Big Bear Recreation Facility has eight regular cabins and two ADA compliant duplex cabins. Duraflame logs available for purchase at lodge. Fresh towels and linens are available daily. Maximum occupancy for each cabin is six (adults, children, infants).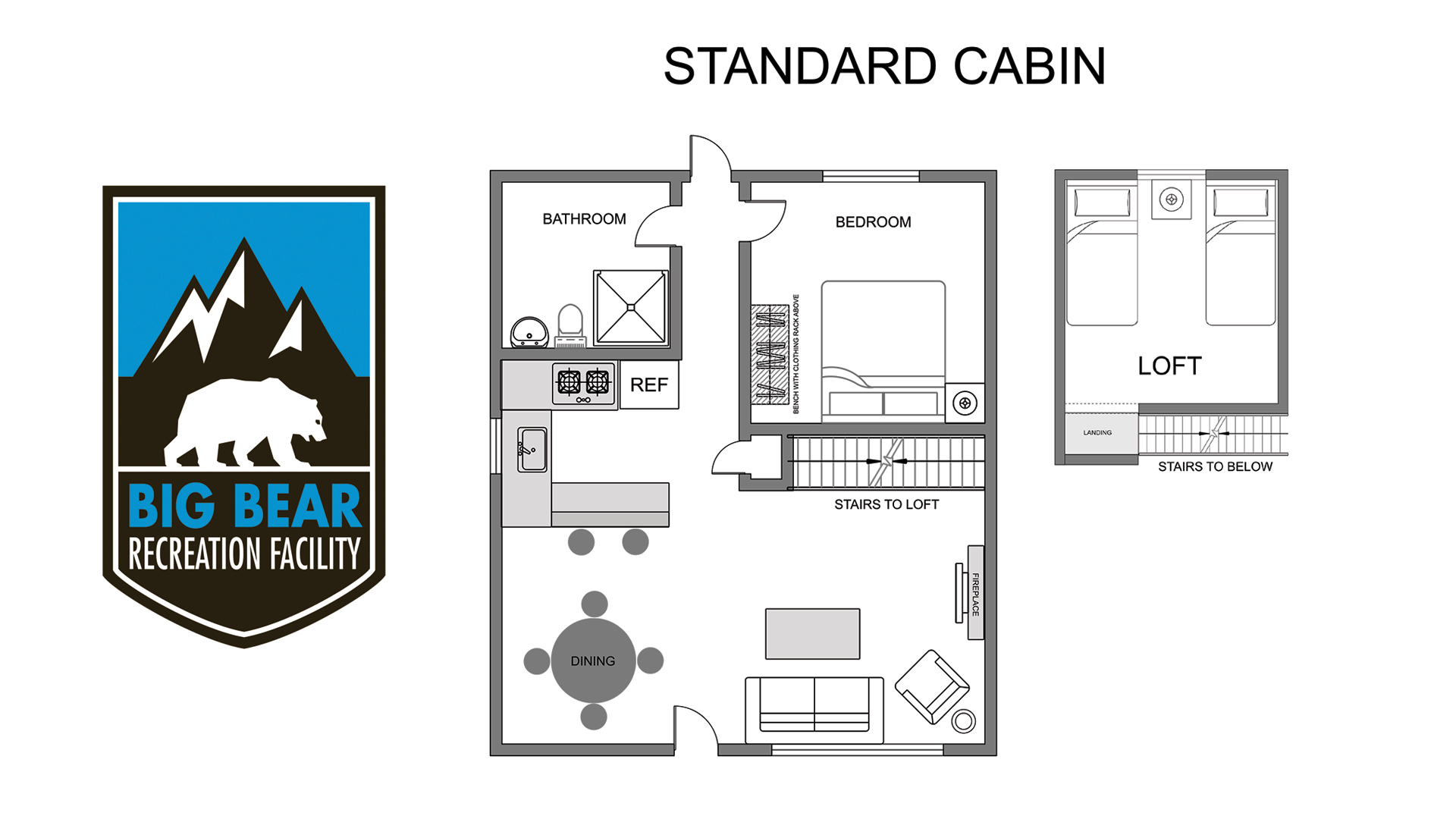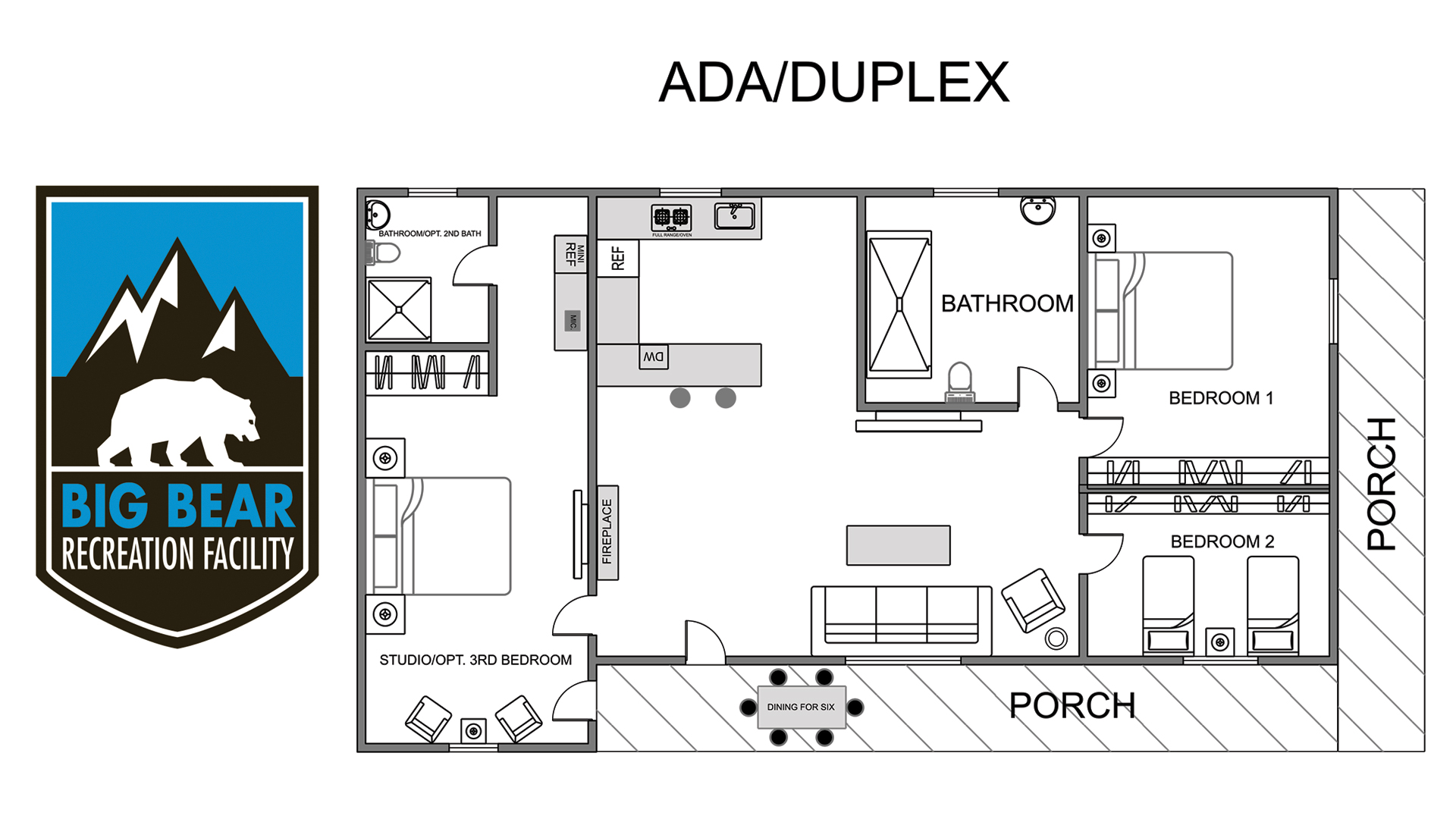 CABIN AMENITIES
Living Room has a pull-out sofa, love seat, fireplace (for use with Duraflame logs only)
TV
Dining room
Cooking items such as pots and pans are provided as well as dishes and flatware for six
Bedroom downstairs has queen-size bed
Loft upstairs has two full-size beds
Linens and towels provided
Charcoal grill and picnic area are provided outside each cabin
High chairs and playpens available at Main Lodge for checkout
Standard cabins include stove cooktops only. ADA cabins include full oven/range.
CHECK IN / CHECK OUT
Check In
Guests with reservations must present a valid military ID card to Lodge Attendant when checking in. Choice of cabin or RV/campsite is first come, first serve ONLY. Check in time for cabins is between 3:00 p.m. and 7:00 p.m. RV/Campground check in time starts at 1:00 pm. Late check-ins are gladly accepted. Please contact facility staff during normal working hours 8am – 7pm. Phone number coming soon to make arrangements. Upon check in, the sponsor will sign a check in card and receive facility guidelines regarding rules and regulations. Late check-ins will complete the check in card the next morning.
Check Out
Patrons must notify the Lodge Attendant prior to departure. Cabins will be inspected for cleanliness and damage prior to check out. The following must be completed prior to check out:
Wash dishes and place all cooking items and flatware in cupboards. A $30.00 cleaning fee will apply for dishes and cooking items left dirty.
Clean out fireplace and barbeque and ensure all ashes are extinguished and deposited in the "ashes only" container by the front door.
Consolidate all trash into the large metal trash can by the front door.
Before departure ensure all trash, recyclables and ashes are deposited in the dumpster, recycling bins or ash containers by the bathhouse.
RESERVATION POLICY
Reservations can be made up to 3 months in advance (includes current month).

1st week • Days 1- 2: Active-Duty on board MCAS Miramar
1st week • Days 3 – 7: All Active Duty
2nd week • Days 8 – 14: All eligible patrons (Reservists, Retirees, Veterans, DoD)
– A valid credit card is required at the time of making a reservation. 30 days prior to arrival the card on file will be charged for the entire amount of the reservation. In the event the card declines, a phone call and/or email will be made to the patron requesting a different form of payment and a time frame of 2 business days to contact us back with the updated information. After the second business day, if the patron has not updated their payment info. The reservation will be cancelled, and the patron will be notified via email.
– Cancellations: 30 days prior – no charge. Within 30 days – $75.00 cancellation fee. Within 14 days – no refund.
Maximum occupancy for each RV / campsite is eight (adults, children, infants).
CANCELLATION POLICY
Cancellations made 30 days prior to arrival will not be charged a cancellation fee. Cancellations made within 30 days of arrival will be charged a fee of $75.00. Cancellations made within 14 days will receive no refund. No refunds will be given for cancellations due to weather, road conditions, or any other circumstances beyond our control.
The RV and campsites are open year round, weather permitting. There are five RV sites with hook ups and a dump station and five tent sites. The maximum total occupancy of an RV/campsite is eight people (adults, children, infants). Tent camping and camp fires are permitted only in designated areas. Tent camping is not permitted in RV sites. Dry camping area is for tents only.
There is a community fire pit on site and firewood and fire starter blocks can be purchased at the front desk of the Main Lodge. A heated bathhouse with hot showers and running toilets is located on site. Guests are advised to bring their own towels and toiletries, none are provided. Water to the RV sites and dump station will be shut off during the cold season, typically November through April, due to the danger of freezing pipes. Water to the bathhouse for hot showers and toilet facilities will remain open during that time. RV/campsite guests are advised to plan ahead. For the latest status, our phone number will be added here soon.
**RVs are not permitted in Tent Camping Sites.
GENERAL INFORMATION
The following regulations have been established. It is expected that all patrons using the Big Bear Recreation Facility will strictly adhere to these general regulations:
1-bedroom cabins sleep 6. ADA cabins can sleep up to 8, pending availability.
Maximum occupancy per cabin is 6 people (adults, children, infants); maximum occupancy for RV/campsites is 8 people (adults, children, infants). Quiet hours will exist in the facility between the hours of 10 p.m. and 8 a.m. Please be considerate of others when listening to your radio, TV or other audio device. If you can hear the music outside your cabin/campsite, it is too loud. Remember, sound travels farther in the still night air, so please be especially considerate in the evening.
Pets are welcome! Please note that a $25.00 per pet per night fee will be added to your stay.
PLEASE REPORT ANY DISTURBANCE TO THE LODGE ATTENDANTS.
Inappropriate behavior or disturbances will not be tolerated. Guests may be asked to leave for failure to comply. The Forest Department permits campfires in approved fire pits and fireplaces ONLY. Only charcoal is to be used in the barbecues. For medical needs, check with the Lodge Attendants. If an emergency arises after hours, there is a door buzzer button at the front door of the Main Lodge to awaken the on-duty attendant. Civilians that are not guests of military patrons are not permitted on the premises. Please notify the staff if unauthorized individuals are observed on the grounds. Driving or parking any vehicle or trailer except in designated areas is prohibited. Vehicles, including motorcycles, will not be driven within the facility except for access or egress. Vehicles should be parked on the asphalt surface at all times. Due to the dry climate, the environment takes a long time to recover from tire track damage. Only motorcycles licensed for the street may be operated in designated areas of the National Forest. Motorcycles must be equipped with a Forest Service approved spark arrester, and be in proper working order. Maps of these areas are available at the Main Lodge and the Ranger Station on the North Shore of Big Bear Lake. Possession of firearms, including air powered weapons and bow weapons, is prohibited on the facility grounds. The discharging of fireworks is prohibited.