Victim Advocates provide information, guidance, and support to victims. They are specially trained to respond to incidents of domestic violence 24 hours a day, 7 days a week. Victim Advocates provide emotional support; advise victims of their rights, explore resources and service in both civilian and military communities, and accompany and support victims through medical and legal proceedings.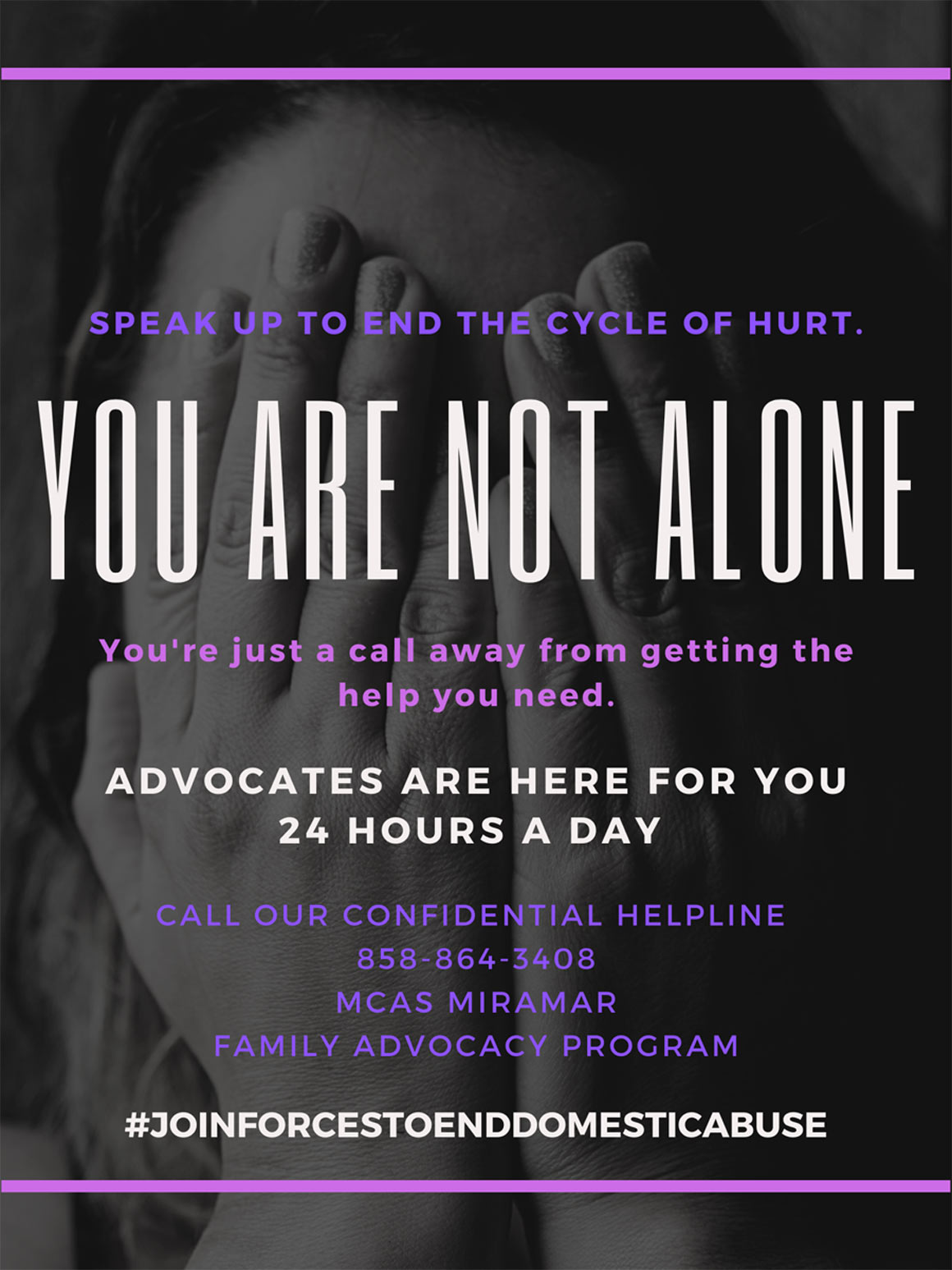 Victim Advocacy
You Are Not Alone.
If you have been the victim of intimate partner abuse, our Victim Advocates are here for you when you need them. First and foremost, we will assist in developing a personalized safety plan and can help you in making the choices that are right for you. We advocate for your rights and wishes as well as provide emotional support and crisis intervention. We can work as a liaison with commands and provide court and medical accompaniment. We can also offer military and community referrals and assist you with accessing these resources.
Reporting options
UNRESTRICTED REPORTING Victims of intimate partner abuse who want to pursue an official investigation of an incident should use current reporting channels, e.g., chain of command, Family Advocacy Program (FAP), or law enforcement. Upon notification of a reported domestic abuse incident, victim advocacy services and FAP clinical services will be offered to the victim.
RESTRICTED REPORTING Restricted reporting allows an adult victim of intimate partner abuse to disclose the details of his or her abuse to specifically identified individuals and receive medical treatment, victim advocacy services and counseling without requiring that notice be provided to the victim's or alleged offender's commander or law enforcement. Victims of intimate partner abuse who desire restricted reporting under this policy must report the abuse to one of the following specified individuals:

A victim advocate
A victim advocate supervisor
FAP counselor
The Behavioral Health building is now open.
We are providing a hybrid of in-person and telehealth services. If you require an appointment or assistance, please contact us at 858-307-1129 or 858-307-6585.
Military and Family Lifestyle Counselor (MFLC):
General: 619-272-1729 or 251-229-4745 or 619-394-8928
MWHS-3: 619-458-7419
MAG-11: 619-458-7421 or 619-346-8473
MAG-16: 619-346-8907 or 858-880-8062
MACG-38: 619-346-8221
Telehealth counseling with Military One Source: 800-342-9647 or militaryonesource.com or militaryonesource.mil
Office Hours
Monday
7:30am - 4:00pm
Tuesday
7:30am - 4:00pm
Wednesday
7:30am - 4:00pm
Thursday
7:30am - 4:00pm
Friday
7:30am - 4:00pm
Saturday
Closed
Sunday
Closed
Holiday hours may vary.